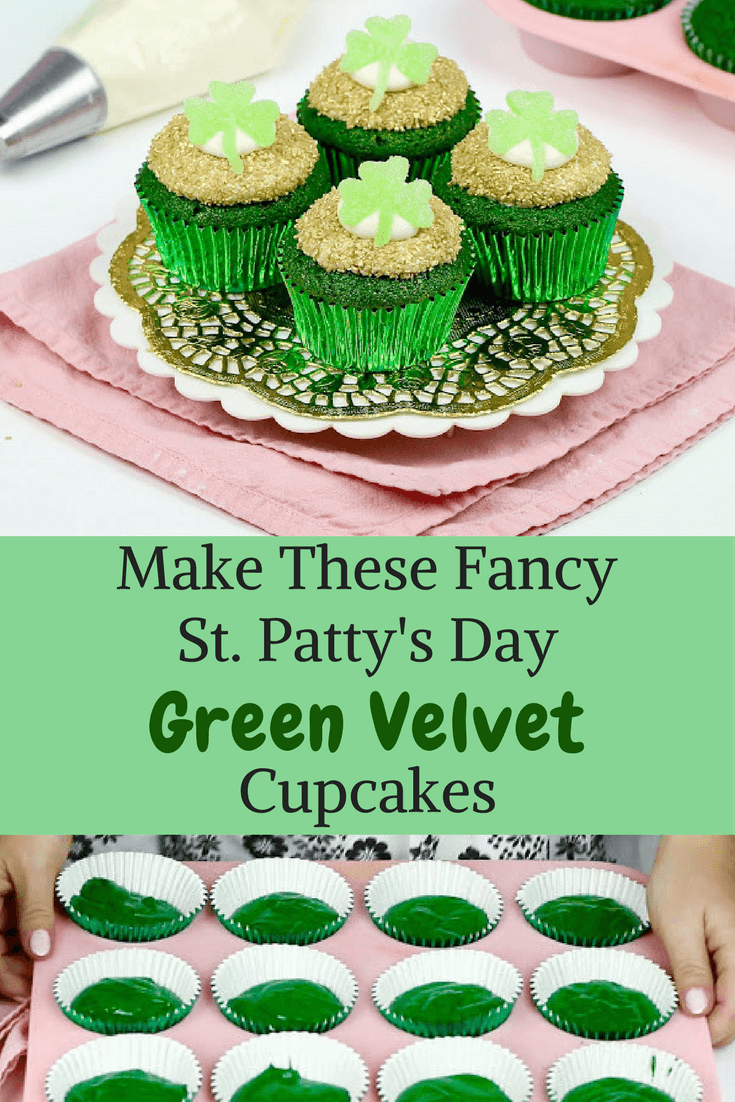 What goes better with green beer than green velvet cupcakes on St. Patty's Day?! Nothing, that's why you need to try your hand at this fancy (yet simple) recipe!  They are much easier to make than you would expect!  Everyone will be impressed with your skills!
Here's what you'll need:
Green Velvet Cupcakes
1 1/4 cup cake flour
1 tablespoon unsweetened natural cocoa powder
1/2 teaspoon baking powder
1/2 teaspoon baking soda
1/4 teaspoon salt
3/4 cup granulated white sugar
3/4 cup vegetable oil
1 large egg, room temperature
1/2 cup sour cream, room temperature
1 tablespoon green food coloring
1 teaspoon vanilla extract
1/2 teaspoon white vinegar
Cream Cheese Frosting
1/4 cup (1/2 stick) unsalted butter, room temperature
4 oz cream cheese (1/2 an 8oz block), room temperature
1/2 teaspoon vanilla extract
1/8 teaspoon salt
2 cups powdered sugar
You'll also need:
small heart shaped cookie cutter
Gold sprinkles/edible gold glitter
Green cupcake liners
Green gummy candy
Let's get baking!
Preheat your oven to 350 degrees and line your cupcake pan.
In a small bowl, mix together your flour, cocoa powder, baking powder, baking soda and salt and then set it aside.
Now beat together your sugar, oil and egg on medium-high speed about 2 minutes until its nice and fluffy.
Slowly add in your sour cream, food coloring, vanilla and vinegar until well mixed.
Slowly add the flour mixture you made in the first step. Use low speed until well mixed.
Fill your cupcake liners about 3/4 of the way with your green batter and bake for about 16-20 minutes or until a toothpick can be inserted and pulled out clean.
Let your cupcakes cool completely before frosting.
Let's make the frosting!
Beat your butter until it's nice and smooth.
Mix in your cream cheese and add your vanilla and salt.
Beat in your powdered sugar until well mixed and your frosting is smooth and creamy.
Spread(or be even fancier and pipe) the frosting onto your cooled cupcakes.
Immediately add your gold sprinkles! Save some frosting to attach your clovers!
Take your green gummy candy and roll it out flat. Use your small heart shaped cookie cutter to cut 3 hearts for each cupcake.  The cut side will be sticky, so you can just press them together.  Also cut yourself a small stem for each clover.
Use a small dollop of your frosting to attach your clover to your cupcake.
Now you're done!  Enjoy impressing everyone with your fancy bakery skills!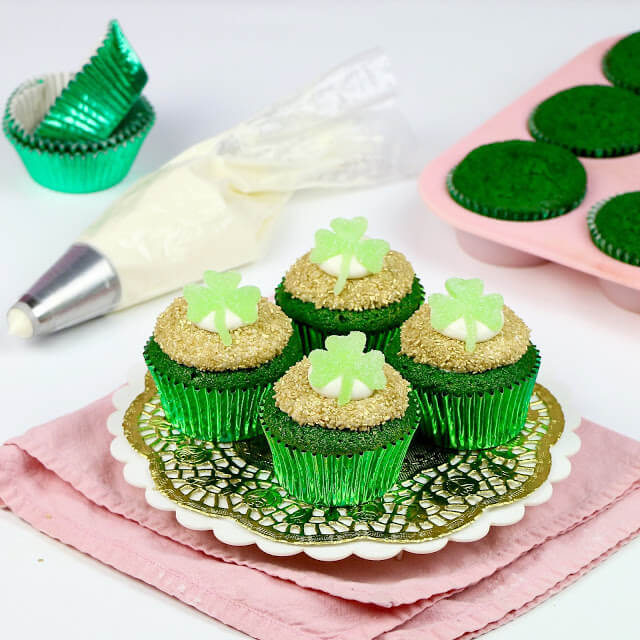 For more info check out this video: