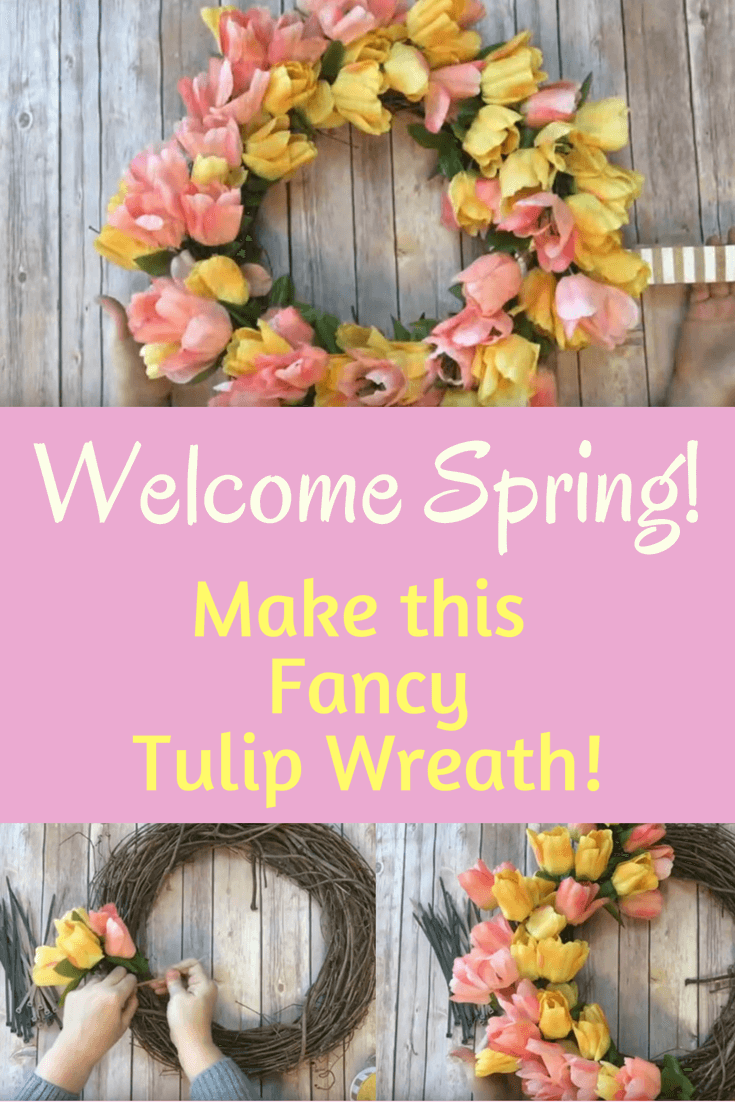 What a better way to welcome Spring than with a beautiful Spring wreath on your front door!  This easy DIY boasts beautiful spring tulips of your choosing and can be customized to make it your own.  It doesn't take long to make and uses only few items!
Here's what you'll need:
 Faux tulips (You choose the colors)
Small zip ties
Grape vine wreath (You choose the size)
A pretty ribbon to match your flowers.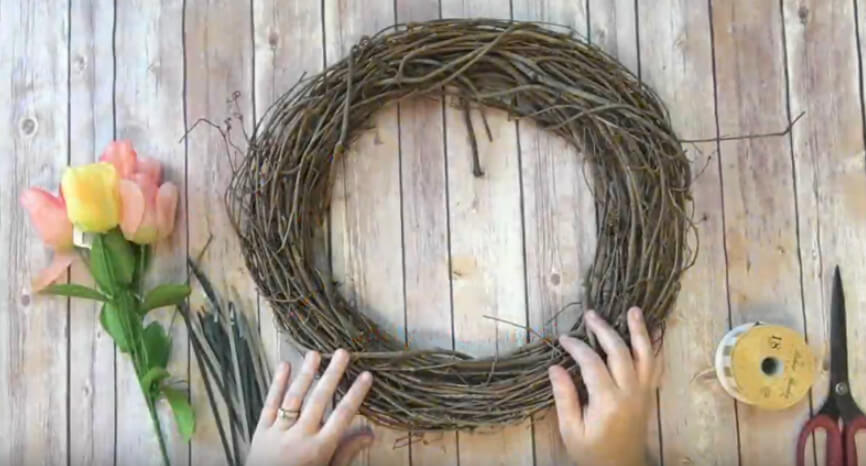 Let's get started!
Begin by pushing the leaves up the stems of each flower so that they reach the base of the flowers.
Bend your stems into a curved shape and begin tucking them into your grape vine wreath. Tuck the entire stem into the wreath and then fan your tulips out so they are not on top of each other, but beside each other.  Tie your zip tie down near the base of the flowers to keep each in place.
Take your next stem and begin tucking it in just below the last. Again, fan your tulips out and make sure they are not on top of each other or the previous tulips. Zip tie it down.
Go completely around your wreath until you have about 2 inches left.  This is where your ribbon will be.
Loop your ribbon around the wreath and leave about 6 inches of slack then tie a knot at the top. Move your knot to the wreath itself and zip tie it down to keep it in place.
Continue tucking your flower stems in and completing the process until your wreath is full.
Once you are happy with it's fullness, you are done!
Tips:
We like to do some variations of this wreath such as only placing the flowers on half of the wreath and hot gluing your last initial on the other side, or tying  pretty bow on the other side.  There are so many options!  Make it your own!
Enjoy your new fancy Spring wreath!
For more info check out this video: